4 steps for the perfect dinner date at home
Last Update : September 20, 2019 by Jake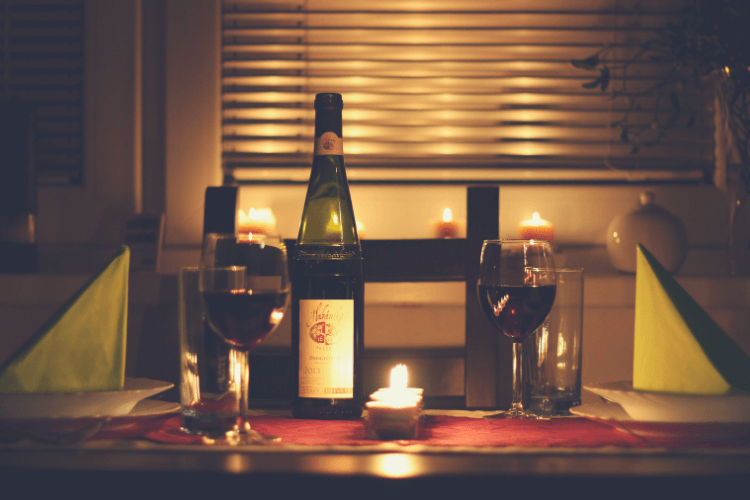 Inviting your date over for dinner for the first time is one of the biggest steps when starting a lasting relationship.
It is the perfect time to impress your date with your cooking skills, but also the moment when your date will see your own personal space for the first time, so you would have to make sure that everything goes, and also looks smoothly.
Dating specialists suggest that the third date is perfect for cooking dinner at home.
We give you four tips to prepare for the best romantic home dinner.
1. Set a romantic atmosphere
"Music expresses that which cannot be said, and on which it is impossible to be silent.", suggested Victor Hugo, so be selective, and choose carefully the music you are going to play in the background during your meal. A good option is to put some jazz or blues, nothing to distractive, to set the mood.
Dim the lights, and add some romantic decorations in the dining area like candles, and flowers like for example, orchids, tulips or red roses to add some color.
Take out your best cutlery, and decorate the table with an elegant floral centerpiece. You can also use some passion fruits to do the trick.
Zoosk has a great and dynamic community in which you'll be able to discuss with other singles date ideas and romantic menus!
2. Choose the perfect outfit
Dress to kill! Some time ago we gave you some tips on what to wear on a first date, but those recommendations can equally help you to decide on what is the best outfit for your romantic dinner at home.
The key is to wear nice, but, at the same time, comfortable clothes. Women can wear a casual, kind of flirty dress. There is no need to wear high heels. For men, trousers, a nice shirt, and a pair of denim shoes would do.
3. Select a proper meal plan and drinks
Go for a simple, yet exotic menu, but avoid at all costs certain ingredients like garlic, onion or spicy ones.
If you are not a cooking master, you can always ask your date help you. Working as a team will bring you closer.
Choose some quick, and easy-to-prepare appetizers like creamy cheese dips or smoked salmon mousse.
For the main course, you can use some aphrodisiac foods like oysters, almonds, asparagus, arugula or pine nuts. Select a good wine to accompany it.
Be creative with desserts. Use some chocolate, cream, strawberries or bananas to spark romance. You can also go for fruit liqueur-based cocktail.
4. After-dinner plan
Make sure to have a plan for when the dinner has finished.
Are you going to stay in or are you going out to dance, walk under the moonlight, or have some more drinks in the nearest cocktail bar? In order to avoid any embarrassing situation, the best option is to have a plan B just in case this is not the night to get intimate with your partner.
In case you are lucky, remember to be as charming as you have been throughout the entire evening!
Check it out: 4 signs to know if he is really into you