Dating myth or reality? – People don't talk about politics on a first date
Last Update : March 1, 2017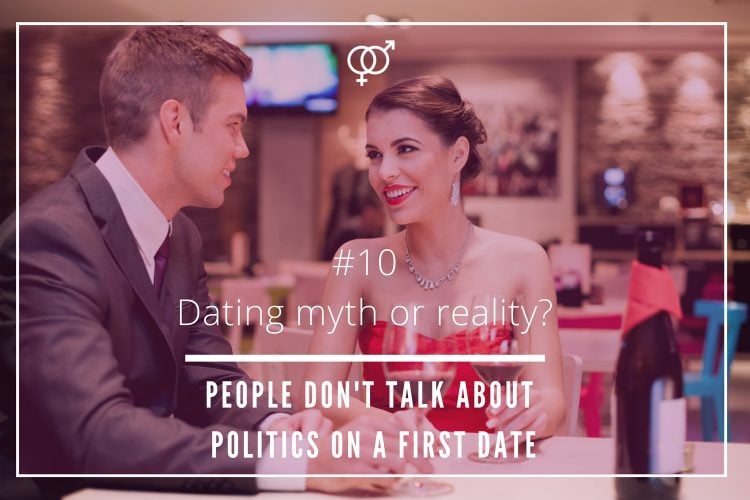 On a first date, every single detail matters. From the clothes you wear, the way you introduce yourself, the place you choose and, of course, your first conversations.
Many dating and relationship experts believe that there are certain controversial topics like politics, religion or ex-partners related issues that should be left off the table on your first encounter.
They recommend to get to know each other slowly and start with a general chat about things you are passionate about and then, gradually go to more in-depth conversations.
Nevertheless, do really people still believe that talking about political issues on a first date is a no-no?
The dating hypothesis: People don't talk about politics on a first date
A few years ago, most singles preferred to engage on other conversation topics before than politics on a first date.
In 2007, the blog It's Just Lunch published a research where 38,912 single men and women where requested to tell about their habits when going out on dates.
When asked about the their first-date conversations, 64% of men and 60% of women answered that they were opposed to the idea of talking about politics.
However, there has been a change of mind in the past decade. Nowadays, singles are more open to let their date know about their political views on a first date.
A study called Singles in America published in 2016 showed evidence that those singles supporting Hillary Clinton were more likely to discuss politics on a first encounter. In particular, a 70% of them.
Daters not only are more willing to have political conversations on a first date, but by doing so, it seems that they have more chances to get a second date according to this study.
As the results showed, the opportunities rise by 91%.
Men's perspective
On August 2016, another study appeared on LifeWay Research which revealed that 6 in every 10 Americans are very keen to talk about politics on a daily basis.
In fact, around 70% of the men who responded, said that they loved to get involved in a political debate.
This tendency it is also applied to the world of dating.
Today's single men, at least most of them, think that it is OK to show which politic party they support or their political ideals while going out on a first date.
Women's perspective
Nowadays, single women behave similarly than men when it comes to talk about politics on a first encounters.
The reason is that they are more concerned and care a lot more about what measures the Government takes and how those affect them.
Nearly half of the female respondents said that they like to engage on political discussions.
Regarding the dating scene, the number of women who believe that political topics are OK for a first-date conversation increases by day.
Dating myth or reality?
Many singles still think that it is better to avoid to bring out controversial issues like politics when they meet their date for the first time.
However, everyday there are more and more daters who believe that it is interesting as a first-date conversation topic, especially men.
All in all, it seems that nowadays, the idea that singles do not engage on political conversations on a first date is a dating myth!