Singles over 50: Secrets nobody dared to share before!
Last Update : March 14, 2019 by Georgia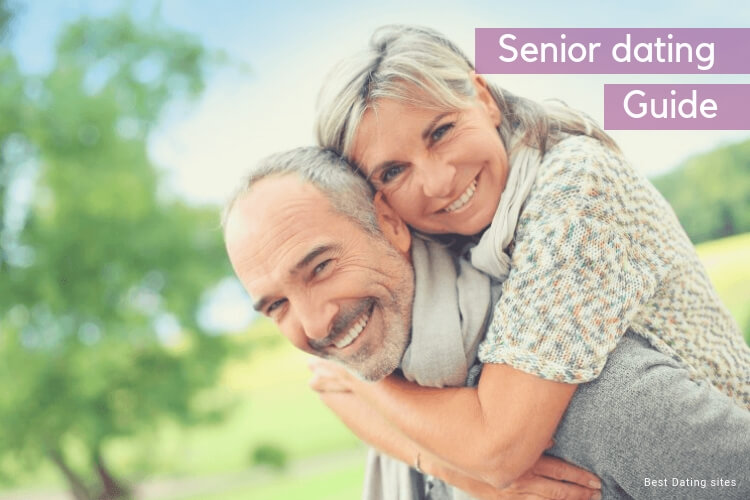 There are lots of really interesting senior dating tips, but what about the untold secrets?
What about the taboos that we still need to break when it comes to dating over 50?
That's right!
The 50s are the new 40s and we love it!
In the past decade, our society has witnessed a dating revolution that has opened the doors to singles over 50 wanting to find their significant other unashamedly.
We embrace it!
Years ago, the so-called senior dating was not even an option. Nowadays, thanks to the modernization of the dating scene with dating apps and platforms, 50+ singles can really give love a second chance.
But there's more to that. Singles over 50 are loving it…what are the untold secrets?
What kind of relationship are singles over 50 truly looking for?
A study published by the dating service Match.com in January revealed that single men and women over 50 are highly active daters. No surprise there!
Actually, for the majority, the objective is to find love again.
Three in every four singles said that despite the fact that coming back to the dating scene was a huge step, they wanted to risk it all to find their match!
Some of them even confessed that they dream about a more committed relationship. Nearly 40% of the respondents said they were not reluctant about the idea of tying the knot in the future!
They expected to date some special soon who in turn may become their long-term partner.
While some senior singles are looking for a lifetime romance, there also are who seek physical relationships. Let's say break the first door: sexy senior dating is a thing!
Nearly half of singles over 50 surveyed, admitted that they would consider a friends-with-benefits relationship, and 27% a single night of passion.
Regardless of surveys, one thing is for sure: All 50+ singles have one thing in common! Unlike younger daters, they know what they want when it comes to dating, love, and relationships.
This is the main secret of dating after 50: you embrace your single status with the conviction that the train of love does not stop twice, and take the most of it without worrying about what others will think of you. Carpe Diem!
But there's more. Let's unveil the secrets of senior dating nobody dared to share before!
Dating after 50: The secrets unveiled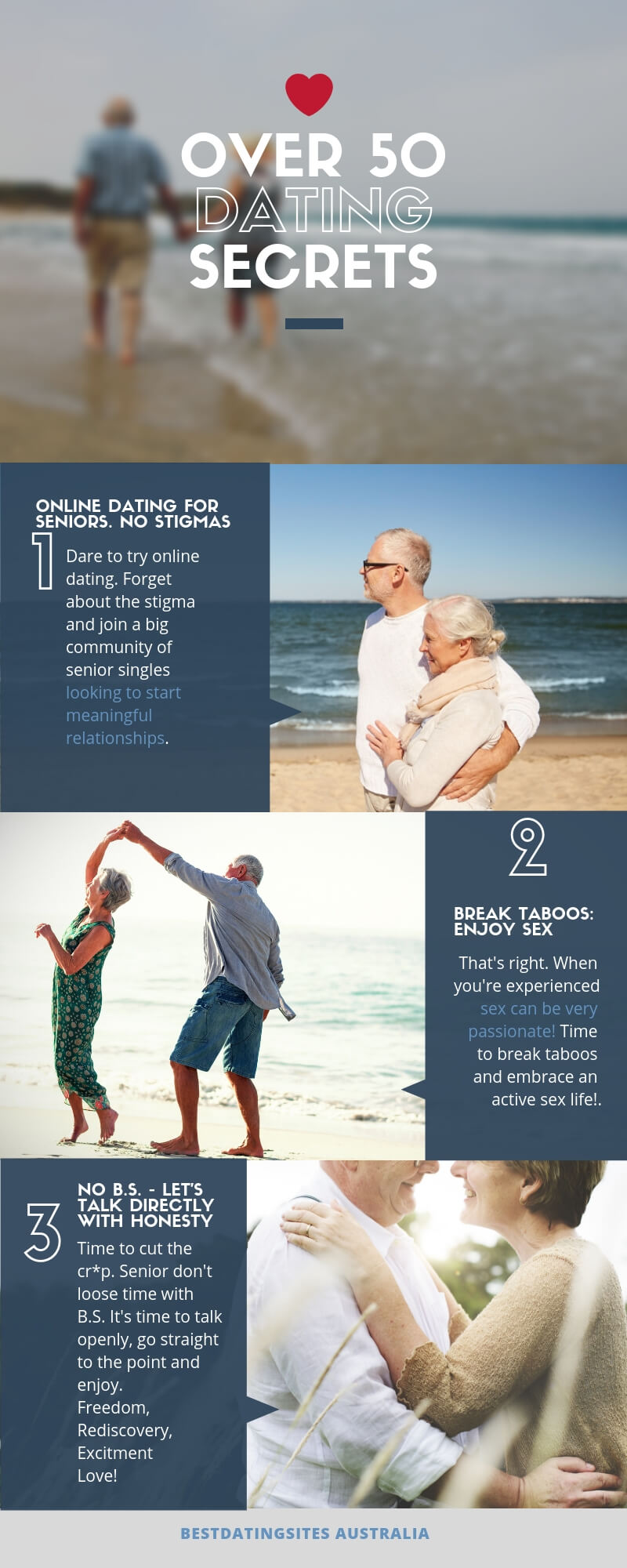 #You can find love after 50
YES. Forget about those that predicate about the apocalypse after the 50s.
Nowadays, being senior means regaining freedom together with all the knowledge you've gained over the years.
The golden years are coming.
---
#What is the best dating site for over 50
There are some elements to take into account when choosing the best mature dating site for you. But don't worry, we've got you covered!
Check out our recommendation: Top Australian Dating Sites for over 50
---
#You can definitely fall in love after 50
Why couldn't you?
You've got more insights about how feelings work, you've got more knowledge about life and what you like, and most importantly, you probably don't have as many responsibilities as you had before. Which means more time to focus on your feelings and more time to focus on love!
---
#Rediscovering sex
Who said it was over?
On the contrary, senior sexy times can be really really intense and fulfilling! Forget about stigmas, forget about past limitations and be open to new experiences!
At this point you probably know how your body works…make the best of it!
---
#Embracing your body and mind after the 50s
If it is said that in your 20s, you tend to be lost…well in the 50s people tend to find themselves again. A complete union of body and mind. If you haven't experienced it yet, it's time to have an open mind!
---
#No B.S., time for honesty
Singles over 50 know what they like, they're not ashamed to look for it.
That's the attitude, and most importantly that's one of the biggest secrets of successful senior dating. It's time to raise your voice.
What do you have to say?
---
#Freedom to set your dating rules over 50
If you've read lots of tips, forget about all you've read. Really. Listen to your guts. Take the dating advice that resonates with you.
Embrace yourself, embrace your sexuality, your personality, your life, your past, and your future.
You've built an amazing person, now it's time to enjoy and to share!
---
> Next: The proof that Mature dating is exactly what you're looking for