How to write an enthusiastic Senior Dating Profile
Last Update : March 6, 2019 by Georgia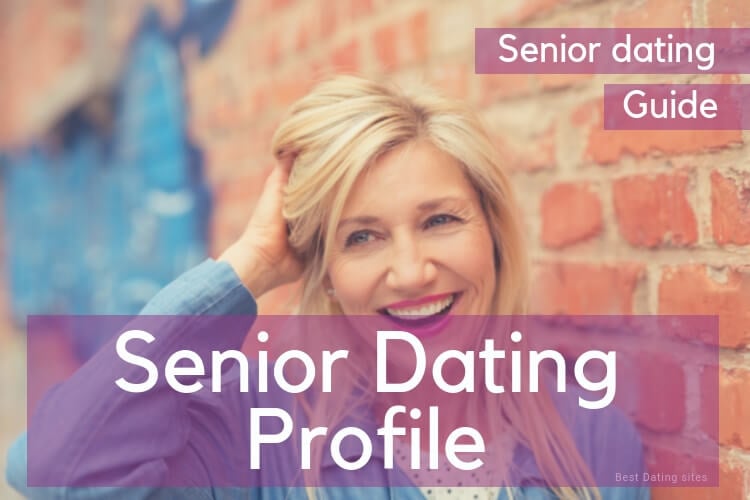 The first and most important step you'll have to do when registering to one of the best dating sites Australia is perhaps the most crucial one: creating your senior dating profile.
Many senior dating sites will actually guide you through the process, or they will even automatically create your senior dating profile once you've completed their dating questionnaire.
But is that enough?
Not really…
Think of your dating profile as your presentation card. You've probably experienced it yourself… when you start looking for singles around you, the first thing you notice is their picture, their location, age and the short description on their profile.
Indeed, these are the 3 main elements: dating picture, location and a short biography with interests.
You're probably wondering by now: so what are the best practices when it comes to creating your senior dating profile?
Senior dating profile: your way to success
When you create a great dating profile, you will not only be more interesting for other singles, but it is also a great advantage for you, as others will see that you take online senior dating seriously and that you're serious about your intentions.
Let's see how to create your senior dating profile step by step…
These are the elements you will need to prepare:
A current picture
A short description of your interests and your expectations
Read more: How to stand out with your dating profile picture
What's the best senior dating profile?
You'll probably find lots of different senior dating profile examples on the web, and although it's always good to find some inspiration, when it comes to your dating profile it can be tricky to find inspiration.
At the end of the day, your dating profile is meant to be very personal.
The best thing we can recommend you to do in order to get real dating profile ideas is to register for free to your chosen senior dating site and read what other singles tend to add in their profiles.
Are the profiles very specific? rather fun? serious?
You'll find all the information you need in seniors dating sites!
Register to SilverSingles for free and check other senior profiles!
What should I write in my dating profile?
Senior profiles tend to be quite specific. It means that senior singles like to add information about their hobbies and their expectations when it comes to romance.
So, how to write a dating profile?
#Step 1: Choose a great dating picture
Choosing a great dating picture is a basic step in order to attract the attention of other users.
There are many best practices on the internet, however, we've prepared a special article on this subject to help you choose the best one.
As a general tip, don't choose pictures where you are with other people and avoid selfies.
Check out the complete guide on best practices to choose the best profile picture!
#Step 2: Write a short but great profile description with your interests
In order to write a short description of your interests, hobbies, your personality, and your dreams, we recommend you to follow these steps in a separate sheet. Once you've fully completed it, you'll have a clear idea of what you'd like to add in your description:
Top 5 hobbies
Top 5 interests
Your top 5 qualities
---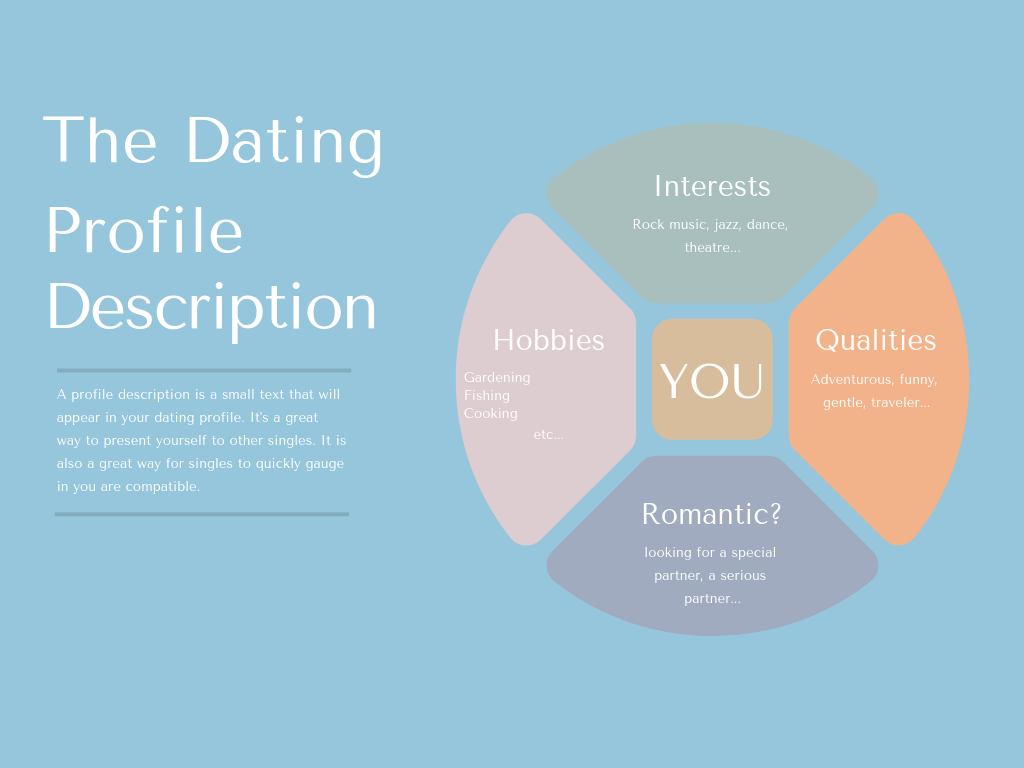 ---
#Step 3: Make sure you specify what you are looking for
In this step, make sure you list some of the qualities you'd like to find in your ideal romantic story:
Your match top 5 qualities
Top 5 romantic must-have
Relationship goals
Next Chapter –  Uploading dating pictures: How does ti work?