Dating myth or reality? – Single men and women want different things from a relationship
Last Update : March 1, 2017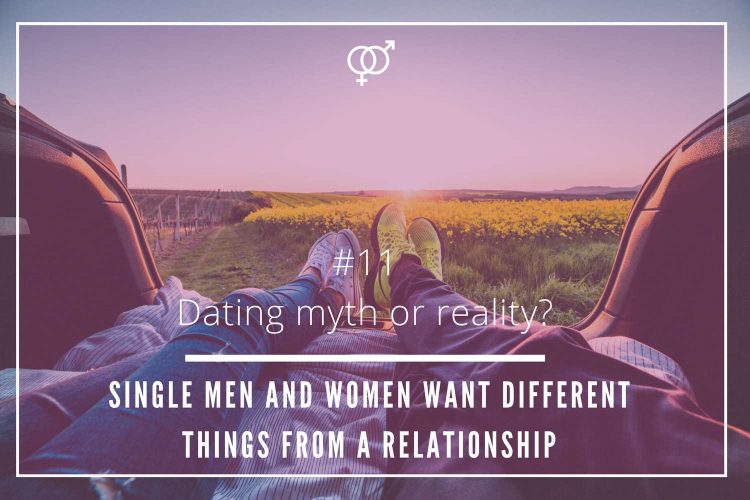 There always have been significant differences regarding the way men and women date and initiate relationships.
In fact, there is a popular saying that suggests that men are from Mars and women from Venus, meaning that they behave in a different way when it comes to matters of love.
Gender roles have always been existed, but nowadays, as women are more independent and people are not that stuck to that old-fashion dominant male-dependant female dating stereotype.
Nevertheless, do still single men and women seek different thing in a relationship?
The dating hypothesis: Single men and women pursue different things in a relationship
What defines the perfect partner? Every dater, regardless their genre and preferences, has his/her own ideal of what the ideal partner should be.
However, in spite the differences that could be between men and women, both of them tend to look for the same traits in a potential match.
It is obvious that even today, men and women have different mindsets when the love and relationships subject is laid upon the table.
A study directed by Market Tools, a research company, and published by Match.com in 2013, revealed that men and women think differently about dating, but, interestingly, at the same time, they very often look for similar aspects in a partner.
Findings showed that they both usually pay attention to their potential partners' grammar and specific characteristics as for example their teeth.
But what about issues like getting involved in a serious commitment?
Men's perspective
Results from this study showed that men love women who have a sense of humour and can be trustable.
In fact, 63% of male respondents said that were looking for a partner who they can really rely on.
Mutual respect is another core aspect. Around four in every 10 single men tend to look for a woman who is nice and treats them attentively and respectfully.
Appearance and confidences play a key role as well. Ladies who are happy with their looks and are self-assured are very attractive to men.
Another study published later, in 2015, showed that, in spite general beliefs, most unattached men aspire to find real love and when they find the right one, what they want is more intimacy.
Women's perspective
Sense of humour is also very important for women in a relationship.
As Match.com's survey suggests, for 84% of the female respondents, respect is also another must have in a potential partner.
Trust is essential too. 77% of single women confessed that they were seeking a man who they can place confidence in.
Communication and having the same values have always been two of the pillars that stand a serious relationship and for women, at least for nearly half of the respondents, they are also important when they look for their significant other.
Dating habits may have changed, but most women still believing on romanticism.
Another survey conducted by a dating site revealed that females with no partner tend to think about commitment when they look for and start dating a man.
For most of the females surveyed, the perfect man would be that one that is "lovely" and who has attributes that qualifies him as husband material. Someone they can see a future with and with whom they can create a family.
Dating myth or reality?
There were differences years ago in the way men and women date, and in some ways, nowadays, there still are some dissimilarities on how they do it today.
Nevertheless, surprisingly, most single men and women of today search for the same things in a potential partner, so it seems that they are not so distinct after all.
It is true that unattached men want women who, amongst other things, are attractive and confident and seek immediate intimacy, while single women aspire to get involved in a relationship where communication is the priority.
However, by the end of the day, most singles, regardless their genre, expect three simple things from a relationship: love, respect and trust.
Thus, as several recent studies show, the idea that men and women do not look for the same things when it comes to love and relationships is a dating myth!