Dating myth or reality? – People wait from two to four days to call after a first date
Last Update : May 21, 2019 by Georgia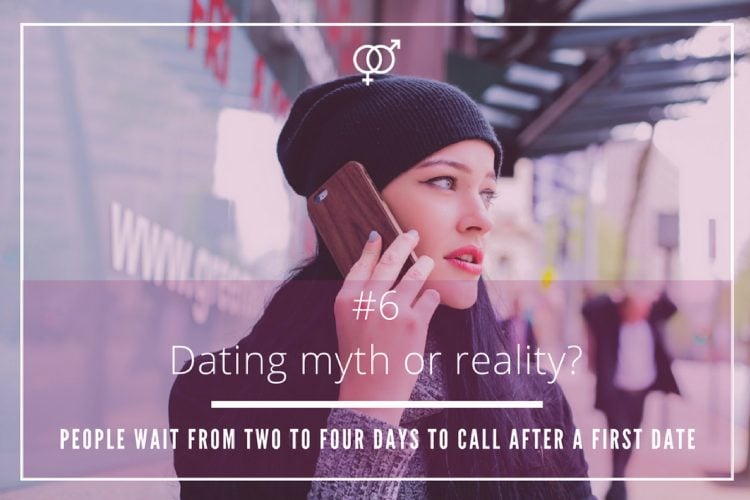 The after first date text: What to do after a first date?
The question many singles ask themselves after they have had an amazing first encounter and seek to enjoy some extra time with their date… but how and when to do it?
How long should I wait for him to call after a first date? What are the "after the first date rules"? How long after a date should a guy text?

When shall I start texting after the first date?

If everything has gone according to your plans -basically you have nailed your first date- that call to arrange your second meeting should arrive at any minute. But should you wait? Should you text?
We know there are lots of questions to ask, especially if you think the first date was probably the beginning of a new relationship…
We've investigated the dating rules for first dates, check it out!
How long do you have to wait to contact your date without looking too anxious about it?
After the first date rules: How long to wait after first date for second date?
The dating hypothesis: people wait from two to four days to call after a first date
The first call after the first date is one of the hardest ones for many daters.
On the one hand, some people believe that if you contact your conquest too soon, you will look a bit desperate.
On the other, others think that if you spend some days to get in touch, your date can lose interest or may think that you are not into him/her.
The dating and relationship expert Steve Santagai describes in his book "The Manual" (Penguin Random House, 2008) how people tend to behave when dating.
The author believes that single men usually call their dates between the second and fourth day after going out on a first date.
According to him, this is the best way to create a sense of mystery and a great way to hint a genuine interest.
After the first date text: Men's perspective
Texting after the first date?
Nowadays, it seems that single men prefer to trust their gut and they tend to get in touch with the girl at some point after one day.
Modern guys think that if you have really enjoyed your time together and there is chemistry, why you should wait more time to see your date again and let the sparks fly?
A 2015 research by the dating site Meetic confirmed that dating theory. A vast majority of men revealed that they preferred to contact their date the next day if they were attracted to the woman and had the feeling they have real potential as a couple.
The maximum time they were willing to wait to call was two days.
After first date etiquette: Women's perspective
What to text a guy after a first date? 
According to the results, we found this is the advice for women:
There are some substantial differences in the way men and women date. However, this is not the case.
Women do not like to wait more than two days to get in touch with their date either if they really feel there has been a meaningful connection.
Meetic's survey showed that single women loved to call or be contacted by their date within the first couple of days after a first date.
Most of them were happy to know about the guy the next day.
How long should I wait for him to come back?: Dating myth or reality?
Despite the general idea that calling your date 24 hours after your first encounter may be a bit hurried, most singles prefer to wait one day or maximum two before getting in touch.
The reason why they are keen to call sooner than later is that they do not want to miss a good opportunity to continue getting to know someone special and perhaps initiating, in that way, a possible romance.
It seems that contacting your date within the first couple of days after a first date is the new trend. So, the idea that daters tend to wait more time, even waiting to day number four, is a dating myth!
The thing about the after first date rules is that you can create new rules whenever you can! The important thing is to always make sure you communicate your feelings. Conversation is always important, that is why it is recommended to always be honest.
If you want to try to avoid any uncomfortable moment, make sure you share your impressions on the first date.
Follow and dos and dont's dating advice and ace your second date!
Register to EliteSingles for free and discover the best dating practices!