Practice Kindness – 10 ways in 10 days to find love in 2019
Last Update : June 25, 2019 by Aya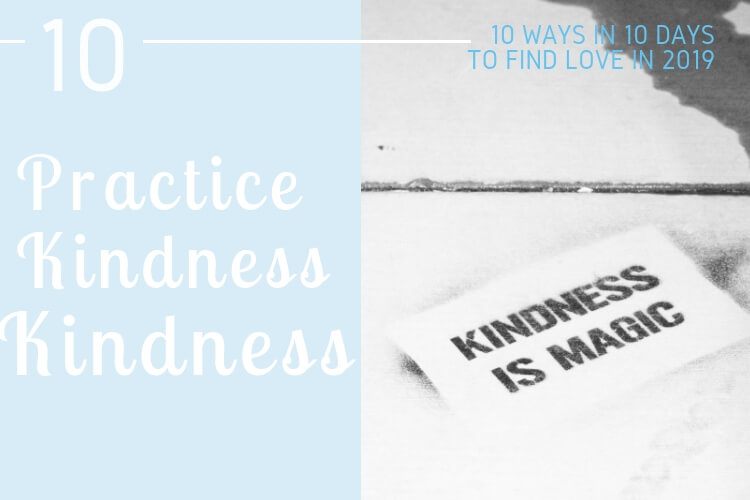 Agreement No.10 Start Practicing kindness
Today we're reaching the final step of our 10 ways-journey to find love in 2019.
Surely, at this point, you've started practicing the different agreements we've been seeing for the last 10 days and you're starting to see some change.
If you don't feel any different yet, do not worry.
This journey is all about motivation, constancy, and effort.
Changing old habits for new ones.
In this final step, we will talk about a very important element when it comes to life and love, and yet so forgotten in our modern societies: kindness.
What does it mean to practice kindness? What's the difference with being polite? How can kindness change me?
Finding Love in every aspect of your life through Kindness
You might wonder: what do you really mean by kindness?
Well, the truth is that defining kindness, same as what happened when we try to re-define Love, is pretty much a really personal definition. According to the Oxford dictionary, kindness is "the quality of being friendly, generous and considerate",
So let's see those three elements separately:
#Being Friendly
This one is probably the easiest one. We can all be friendly, when we want, and unfriendly when we see it fit. However, having said that, if you really think about situations in which you've been friendly in comparison to those in which you have been unfriendly, you'll probably notice that when you've been friendly, you've had a much more positive experience and that you've even experienced yourself the friendshipness of others.
#Being Generous
This one becomes a little bit more complicated, doesn't it? Being generous. It is a hard one, we all want to think that we are generous people but when it comes to facing the reality it is sometimes hard to think about specific actions that show our generosity.
Of course, being generous is not all about the materialistic world, but it is also in the little details. You can be generous by offering your total support to a friend, or by smiling to strangers on the street…
#Being Considerate
This one is the hardest one. Being considerate in an individualistic world is with no doubt, a hard task! If you think of being considerate as in putting yourself in the place of others, and having others in your thoughts, you'll probably quickly realize that it is not always the case, don't you think?
Being considerate is not only a great way to surround yourself with consideration, friendship, love and care, but it is also a very positive and rewarding feeling.
[Read more: Kindness is the most attractive trait according to a study by EliteSingles!]
Love in the modern world: the art of practicing Kindness
You probably have now a better idea of what practicing kindness really entails, but let's push it a step further…
Think about past experiences meeting new people. Chances are that you've met somebody that was so nice, so gentle, that has made you feel incredible good and that you've felt really comfortable being around that person that had a kind of amazing aura of positivity. That's Kindness.
And my friend, kindness is incredibly attractive!
Attractive for the heart, attractive for your mental health and attractive to other people.
On this last step in this incredible journey, we encourage you to start practicing kindness.
It feels like a hug for your heart! It is such an incredible feeling of fulfillment and love that we are confident, will definitely determine your success when it comes to finding love in 2019!
Before we do a recap, we also encourage you to post any question or experience you've had during this 10 days journey in our Facebook #datingquestionzoe. We will be happy to assist you in your dating experience as much as we can!
---
10 Agreements to find Love in 2019
---