Pumpkin, beef and Black Bean Chili for a Halloween Date
Last Update : March 2, 2017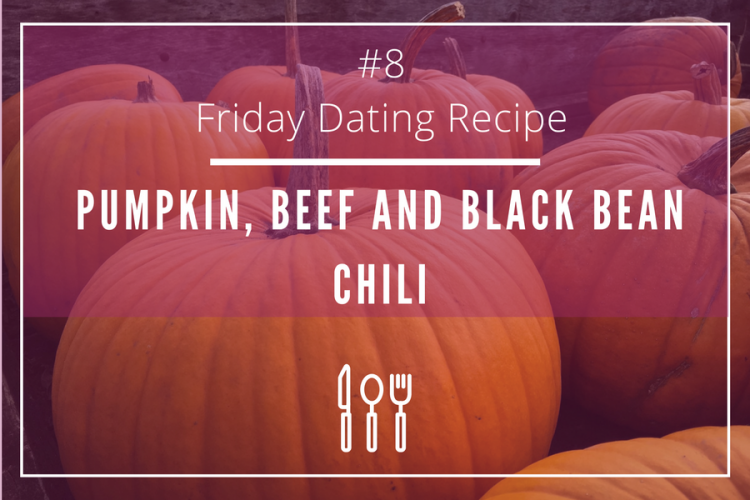 A Mexican touch for your romantic date
Pumpkins are the symbol of Halloween. Those round orange scary face with candles to light its eyes and mouth that will be everywhere this weekend.
Halloween is a great time to plan a date. The lights, costumes and parties make it a great moment to organise a perfect romantic spooky date that will start with a home-made dinner.
Even if pumpkin will indeed be the symbol of this weekend, the celebration was actually started in Mexico : the day of the dead.
A Mexican tradition declared as an Intangible Cultural Heritage of Humanity by the Unesco in 2008 in which Sugar skulls and marigolds, believed to be the favourite food of dead, are offered to them.
To adapt this tradition in an original way, this chili, a traditional Mexican food with the added touch of the pumpkin will be a great way to impress your date before starting your Halloween adventure.
Chili and Pumpkin : a spicy recipe for a daring date
A great recipe for the colder nights of fall. This recipe will take you about an hour of preparation but it will be a great ally to warm your bodies with spicy flavours. A great way to make sure you and your partner are ready to face the adventures that can offer the Halloween night. Who said romance couldn't be found in Halloween ?
Ingredients
Chili
1¼ lb. ground round
 1 medium Sweet onion
 1 red bell pepper
 3 clove garlic
 2 tbsp. chili powder
 1 tbsp. dried oregano
 1½ tsp. ground cumin
 3 c. sweet pumpkin or butternut squash
 1 can black beans
 1 can fire-roasted diced tomatoes
 1 can low-sodium beef broth
 1¼ tsp. Kosher salt
 1 tsp. Freshly ground black pepper
 ⅓ c. Chopped fresh cilantro
 Sliced fresh jalapeños
Chipotle Sour Cream
 1 container sour cream
 1 tsp. minced canned chipotle chiles in adobo sauce
 2 tsp. fresh lime zest
 1 tbsp. fresh lime juice
Preparation
Cook beef for 8 minutes until it is no longer pink. Then cook the onion, the garlic and the pepper for another 7 minutes. Add the chili powder and the oregano and cumin for another extra minute. Then add the pumpkin and stir in for 5 minutes.
Once this is done, bring to a boil and let it simmer for 20 to 25 minutes until the pumpkin becomes tender. Add the cilantro and season it.
Once cooked, serve with jalapeños and the Chipotle Sour cream.
For the Chipotle Sour cream : stir together the sour cream, the chipolte, lime zest and lime juice. Season it.